Procedure for Processing Oil Kits
Procedure for Processing Oil Kits
Procedure for Processing Oil Kits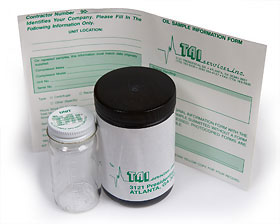 Contact us for pricing and to place you order. (Note that the cost of the kit includes all supplies for the kit including, mailing bottle, mailing label, sample form, analysis, evaluation, report and report distribution.)
Each Oil Kit must be returned with a completed original form (shown in photo). 
Always have serial number of the unit that is being tested on the form.
Customer sends the White copy of the form with the oil sample and keeps the Yellow copy for the file.
Customer ships oil and form to:
TAI Services, Inc.
5300 Oakbrook Pkwy
Suite 245
Norcross GA 30093
We recommend shipping via UPS in order to track the shipment if undelivered.
---
Problem with your oil test?
To better serve you, we ask that you contact us if you have not received your Oil Report within 10 days of mailing in your sample.  We will follow up to insure that your oil sample has been received and processed.
---